Aug 04, 2011 at 12:18 PM
Rihanna Campaign Boosts Beiersdorf's Nivea Brand
German personal care conglomerate, Beiersdorf, credited its Nivea consumer marketing campaign for driving strong sales growth in the second quarter. The consumer business segment increased organic sales by 1.3% in the first six months of 2011, helping boost the company's overall sales by 1.9%

"The campaign to position NIVEA for the future and mark the brand's 100th anniversary generated positive momentum at retailers and among our consumers in the second quarter," CEO Thomas-B. Quaas said. "The performance of our skin and body care business shows that our 'Focus on Skin Care. Closer to Markets' strategy is having the desired effect."
Just last week executives at the company announced a massive plan to activate the partnership with a collection of new digital elements, which will be rolled out on a global scale.
"With the promise to be a "Skincare for Life" Brand NIVEA engages with our consumers. As online channels are part of our consumers every day life, we have a strong focus on digital touchpoints," explains Ralph Gusko, Board Member Brands. "We involve our consumers with innovative channel communication elements that center around Rihanna and the NIVEA Crème tin – augmented reality for example is one highlight."
The new digital elements of the Rihanna activation include: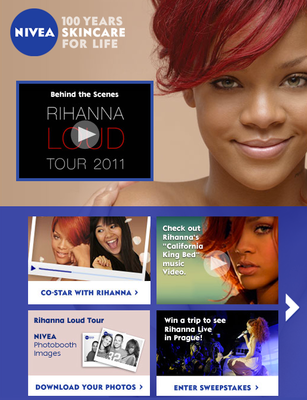 Exclusive downloads; a point of sale promotion taking place in over 40 countries feature codes that can be redeemed against exclusive Rihanna downloads on the NIVEA website.
User-generated content; a user generated content application called "Co-star with Rihanna" will let fans star in a short, alternative version of her music video for California King Bed by editing themselves into the video and then share the custom video with their social networks.
Augmented reality; an AR piece on local NIVEA websites and the NIVEA facebook page will give fans a private performance on a virtual NIVEA Creme tin stage. The user interacts with Rihanna by using any NIVEA Creme tin in front of the monitor and can influence the objects in her surroundings as she sings.
Blogging; As part of NIVEAs' sponsoring of Rihanna's 'Loud' tour, local bloggers around the globe will accompany the tour and report on location from tour stops.


"For two years, we have been working with Beiersdorf to redefine their global digital strategy across bought, owned and earned media," says Gurval Caer, CEO Blast Radius (Global Digital AOR). "For the launch of 'Skincare for Life', we use the power of interconnection between all digital media, the reach of a megastar like Rihanna, and NIVEA's brand strength to create innovative digital experiences that truly connect consumers to the brand on a global scale."

#newstag