Jan 08, 2010 at 06:16 PM
Activation Tactic of the Week
Are you looking for new ways to leverage Dunkin' Donuts as a corporate partner? Are you looking for creative ways to leverage signage giveaways and other premium items?

Massivemedia recently executed a terrific guerrilla marketing campaign on behalf of Dunkin' Donuts at a recent major endurance event. Massivemedia featured a sign station where fans could place customized messages on "You Kin' Do It" signs and had a Dunkin' Donuts on-site to engage with consumers.
Check out some pictures of their activation below as well as some links that detail some of Massivemedia's related grassroots campaigns that have been executed on Dunkin' Donuts' behalf: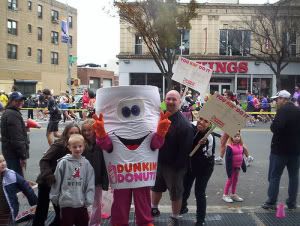 Dunkin' Donuts Cap Distribution at the NYC Marathon - Click Here
Dunkin' Donuts Coupon Sampling - Click Here
Source: Massivemedia


Brian Gainor is a passionate sports marketer with agency experience as well as an extensive background working in the NFL, NFL Europe, and collegiate athletics. Brian completed his MBA/MSA graduate work at Ohio University (Athens, OH) and currently resides in Charlotte, NC. As a Sports Partnership Activation Consultant, Brian created Partnership Activation, Inc. to provide sports business professionals with "industry best practices" - creative ideas that provide opportunities to generate incremental revenue. Be sure to check out all of Brian's past posts, too. The opinions expressed herein do not necessarily represent those of the publisher, SponsorPitch, LLC.