May 14, 2010 at 01:11 PM
Activation Tactic of the Week
Are you looking to leverage new partners online?

In 2009, Breathe Right Nasal Strips partnered with five (5) NFL teams (Patriots, Giants, Dolphins, 49ers, Bears) to introduce its new Breathe Right "Extra" product to sports fans across the nation. Touting a product that has been used by professional football players since 1994, the company activated its partnerships with "Breathe Right Game Days", where 400,000 product samples were distributed to fans via a multi-faceted professional football sampling and trainer outreach program.
In 2010, Breathe Right is bringing its partnership with the New York Giants to life by featuring an interactive page on the team homepage where fans can upload a picture of their game face, where they are wearing a Breathe Right Extra nasal strip, each week. The page concept is very engaging for fans and does an effective job tying back to the sport! A very well executed piece! Check it out below: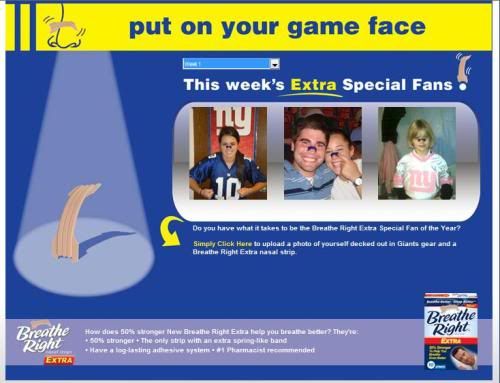 Brian Gainor is a passionate sports marketer with agency experience as well as an extensive background working in the NFL, NFL Europe, and collegiate athletics. Brian completed his MBA/MSA graduate work at Ohio University (Athens, OH) and currently resides in Charlotte, NC. As a Sports Partnership Activation Consultant, Brian created Partnership Activation, Inc. to provide sports business professionals with "industry best practices" - creative ideas that provide opportunities to generate incremental revenue. Be sure to check out all of Brian's past posts, too. The opinions expressed herein do not necessarily represent those of the publisher, SponsorPitch, LLC.