Oct 16, 2009 at 01:43 PM
Activation Tactic of the Week
Are you looking for new advancements in signage technology? Are you looking to feature signage at your venue that will pop?

Sports organizations looking for new signage technology to promote corporate partners need to check out the amazing work being done by Shapeshifter Media. Shapeshifter Media is the exclusive licensee of the international patents for the manufacture of Stairgraphics, a new piece of signage technology that could soon become a growing trend in the United States.
As more teams consider stadium stair signage (both in-venue and out-of-venue) and floor signage in stadium concourse levels, Shapeshifter Media could soon become a key player in the North American marketplace. The key trick will be to see which U.S. properties are able to effectively work with the German-based Shapeshifter Media to bring the 3D stairgraphics to the United States (properties interested in the technology can connect with Shapeshifter Media by clicking here).
Check out some of Shapeshifter Media's work in the sports space below: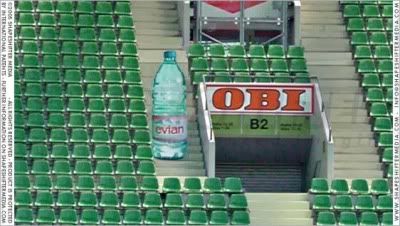 Brian Gainor is a passionate sports marketer with agency experience as well as an extensive background working in the NFL, NFL Europe, and collegiate athletics. Brian completed his MBA/MSA graduate work at Ohio University (Athens, OH) and currently resides in Charlotte, NC. As a Sports Partnership Activation Consultant, Brian created Partnership Activation, Inc. to provide sports business professionals with "industry best practices" - creative ideas that provide opportunities to generate incremental revenue. Be sure to check out all of Brian's past posts, too. The opinions expressed herein do not necessarily represent those of the publisher, SponsorPitch, LLC.