Nov 13, 2009 at 02:51 PM
Activation Tactic of the Week
Are you looking for new ways to make an impact on race day? Are you looking for ways to use sports to drive home fuel efficiency messaging?

As brands look for creative ways to leverage endurance events, many should take a page out of Volkswagen's playbook for the 2009 Chicago Marathon. Volkswagen was looking to promote the 42mpg fuel efficiency of the Jetta TDI Clean Diesel vehicle and decided to partner with super-athlete Dean Karnazes to send home a powerful message to viewers, onlookers, and brand enthusiasts.
To sell home the fact that the TDI Clean Diesel vehicle doesn't stop at 26.2 miles per gallon, Volkswagen asked Karnazes to not stop at 26.2 miles (1 marathon) either. In fact, they tasked him with running a distance equal to 2 straight marathons (52.4 miles). Along the way, Volkswagen generated interest by letting fans send tweets with questions and support and videotaped the entire feat. The company is also supporting the initiative with a custom microsite.
Check out a video of Dean Karnazes journey below and look for more creative fuel efficiency acts from Volkswagen in the near future!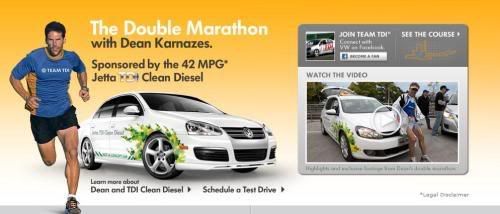 Brian Gainor is a passionate sports marketer with agency experience as well as an extensive background working in the NFL, NFL Europe, and collegiate athletics. Brian completed his MBA/MSA graduate work at Ohio University (Athens, OH) and currently resides in Charlotte, NC. As a Sports Partnership Activation Consultant, Brian created Partnership Activation, Inc. to provide sports business professionals with "industry best practices" - creative ideas that provide opportunities to generate incremental revenue. Be sure to check out all of Brian's past posts, too. The opinions expressed herein do not necessarily represent those of the publisher, SponsorPitch, LLC.