May 26, 2011 at 02:02 PM
Agencies Take Different Routes To Building Out Brazil Operations
With the World Cup and Olympics coming to Brazil in 2014 and '16 respectively, it seems a week doesn't pass without an agency announcing new or expanded operations there. Recently, IPG's Momentum Worldwide announced that it is setting up a dedicated sports division in Brazil, teaming up with motorsports icon, Emerson Fittipaldi. Omnicom's SportsMark also announced this week that it has opened a São Paulo, Brazil office which will offer sports and event marketing consulting and activation services for international and Brazilian corporate clients for the 2014 FIFA World Cup Brazil and the Rio 2016 Olympic Games.

Octagon which acquired a Brazilian sports marketing agency called B2S in 2010, expanded its operations last month hiring four new executives and moving into a new Rio de Janeiro office.
"These additions dramatically enhance our capabilities and bring even greater expertise to support our rapidly-growing client roster," Octagon Brazil President, Alexandre Leitão said.
"It really isn't too early, because just about at the moment the clock ran down on the last match in South Africa people started looking towards 2014 and the World Cup there," Octagon President Rick Dudley told colleagues at the time of the B2S acquisition last September.
SportsMark has hired ESPN Brazil-veteran, Kevin Smith, as Business Director to lead their São Paulo office, choosing to grow operations through a strategic hire, rather than acquisition.
"Kevin is a welcome addition to the SportsMark team and will provide invaluable support to our efforts, as we continue to grow and develop our client base and key sports business relationships in Brazilian markets," SportsMark President Keith Bruce said. "He has the ideal blend of international sports marketing industry experience, cultural knowledge, and local relationships to support our clients' programs and new business initiatives."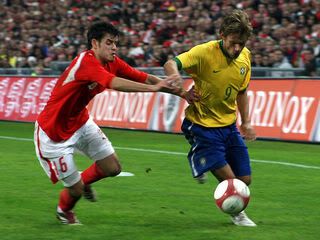 The sports marketing arm of U.K. PR firm, Chime Communications, took a similar route to Octagon in Brazil. Chime is expanding operations throughout the world via acquisitions, and earlier this month the firm paid £2.4 million to acquire 60% of Brazilian sports marketing firm 'Golden Goal Sports Venues', which is involved in both sponsorship consulting and rights selling for such clients as AC Milan, Petrobras, Flamengo, Botafogo and Banco do Brasil.
"Sports marketing is growing rapidly in Brazil, and with the FIFA World Cup in 2014 and the Olympic Games in 2016 both taking place there, we are in a great position to capitalise on the opportunities around these major events," Jim Glover, Chief Executive of the Sports Marketing Division of Chime Communications (CSM) said. "Golden Goal operates in Brand Consulting, Event Management, Hospitality Servicing and player management, therefore the opportunity to export our services from all around CSM is enormous."
#newstag