Apr 06, 2011 at 02:12 PM
Ahead of the Curve: Josh Silva

Josh Silva
Account Supervisor, GMR Marketing
SponsorPitch Profile
---
How would you describe your career to date?
I've been in the sports marketing business for about five years. I started off as an intern with Real Salt Lake in Major League soccer after obtaining my Masters in Sport Psychology at the University of Utah. I was able to transfer my internship into a full-time position within about three months as their customer service manager. The team was only in its second year in the league so it was a real exciting time to be a part of the organization. I was given the freedom and flexibility to make that position what I wanted it to be. It was during that time that I realized I had a lot to learn about sports marketing.
After two seasons with the team an opportunity opened up with GMR Marketing managing Miller Lite's Hispanic soccer business. I decided to make the move over to the agency world because I wanted to grow my skill set in strategy development, marketing and sponsorship. GMR really provided me with an opportunity to do that and more.
What are your goals in the sponsorship and sports world?
I've had the opportunity to work in Major League Soccer. Sports have always been a passion of mine but soccer is very near and dear to me. Ultimately, I would love to get back into the league that gave me my start in the industry. Great things are ahead for MLS and it's exciting to see the growth and traction that it is receiving.
What accounts do you work on for GMR?
Currently I work on Comcast's multicultural business; we developed their Hispanic sports strategy and execution. My other account is the Lincoln Financial Group managing their sports partnerships. I've also had the opportunity to work on Miller Lite's Hispanic sports business.
What is the greatest thing about working for an agency like GMR?
The people. Everyone you work with is creative and an expert in their space. It makes for a fun, relaxed environment. Working at an agency with the credentials of GMR also requires you to bring your best to the table every day. The agency really gives you the freedom to grow and develop. I've been fortunate enough to expand my network and learn from some of the best in the business. The perks can be nice too. I've been to the Super Bowl, Gold Cup and a host of other sporting events that I probably would never had experienced without GMR.
What have you found to be the key to successful sponsorship programming?
In my opinion one of the keys to successful sponsorship programming is to have a well crafted strategy. If a brand does not have a strategy on how to approach sponsorships they could be missing some significant opportunities or partnering with properties that are not a good fit. A strategy allows a brand to identify what a good fit is for them and pass on opportunities that are not a good fit confidently. From a multicultural perspective it's also about knowing your consumer. When most people think Hispanic/Latino their minds typically take them to an individual of Mexican heritage. While 60% of US Hispanics are Mexican, you are leaving out 40% of the market and when you take into account the most recent census data of 55 million Hispanics in the US that's 22million people you may be missing out on. In addition, you have to consider the acculturation level of the Hispanic consumer. You have the unacculturated, bicultural and acculturated. They may look similar but there are important differences between the groups in how you communicate to them.
Have a favorite activation or one you did that gives you the most pride?
Last year for Comcast we secured the services of top Hispanic athletes. I had the opportunity to work with Hanley Ramirez of the Florida Marlins, Tony Gonzalez of the Atlanta Falcons, Guillermo "Memo" Ochoa of the Mexican National team and Jorge Campos a Mexican soccer legend. Nothing like that had ever been done before to my knowledge. In addition, we created a grassroots mobile tour that attended key Hispanic events, festivals, etc. and we were able to leverage our athletes in the creative of that tour and even bring a couple of them out for appearances.
In general, do you think sponsorship sales people do a good job finding how to create value for brands, or do agencies really have to do most of the work?
It's really about partnership. While sponsorship sales people try to create value for brands they are ultimately concerned with maximizing the value to their property. The agency's responsibility is to keep the brand's best interest in mind and make sure that the sponsorship is in line with the strategy of the brand. If it's an experienced sales professional they should recognize the importance of working closely with the agency.
You have to be willing to say no for your client if it's not on strategy. We've been presented with some very unique and interesting proposals but at the end of the day if it does not make sense you have to be comfortable walking away.
If you could give any piece of advice for properties wanting to secure a partnership with a brand represented by an agency, what would it be?
Be flexible and try to get a sense of what the brand's objectives and strategy are.
How did you first hear about SponsorPitch?
Twitter actually. It's a great communication tool and allows me to identify best practices and industry trends within the limited amount of time I have during the day.
How would you describe the value of Professional membership?
Personally, I think the value is evolving. Right now a professional membership allows you to connect with other industry folks and gain key insights into trends and best practices. I believe the vision of what a professional membership could be is appealing to me. The opportunity to see what other brands are doing and who is putting those deals together can provide great value and allow you to think outside the box.
If you could say anything about the industry, what would it be?
This industry is great. It's such a small world and to have the opportunity to connect and find people who share your passion really drives me to be my best because you never know when that next opportunity will present itself.
---
Contact and/or connect to Joshua Silva:
Twitter: @jbsilva
LinkedIn: http://www.linkedin.com/in/jbsilva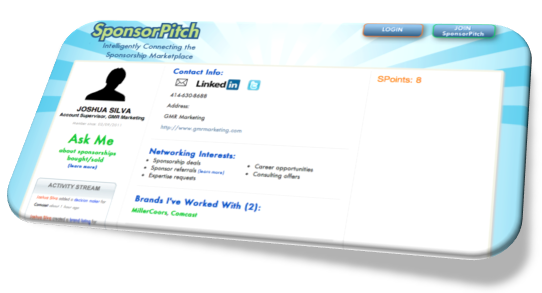 ---
Note on Ahead of the Curve Interview Series
Ahead of the Curve is a regular interview series featuring professional members of SponsorPitch, a research and networking site for sponsorship professionals. If you'd like to be featured, become an active member of the SponsorPitch community. To learn more about our service and what it can offer you, get in touch with a member featured in the Ahead of the Curve interview series.
3/15 Member Interview: Bob Gearing
3/16 Member Interview: Mike Mahoney
3/17 Member Interview: Jim Hauck
3/18 Member Interview: Brent Schoeb
3/23 Member Interview: J.W. Cannon
3/30 Member Interview: Joan Hanscom
#aheadofthecurve #ahotc