May 04, 2011 at 03:48 PM
Ahead of the Curve: Marty Teller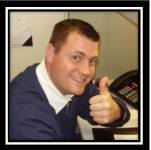 Marty Teller
Partnerships Manager, Trenton Thunder

SponsorPitch Profile: MartyTeller
---
Years in the biz: 6
Why/how did you get started in it?
After graduating from the University of Tampa, I started as an intern in the Premium Services department with the Baltimore Ravens where I focused on the service and operational side of the team's suite business. Starting on the service end of things gave me a unique perspective and understanding of all the details that go into the execution and activation of partnership and hospitality deals. It also taught me the importance of networking and building relationships. I was able to pretty quickly put those lessons into practice and designed a number of successful partnership deals in my time at the Ravens. It's that commitment to execution and activation that I still carry with me today and has allowed me to have some success in this industry.
You were at the Baltimore Ravens in the NFL, but now you are at a Double A minor league team. What precipitated you moving from the NFL to minor league baseball?
It was sort of a right place, right time thing. Through some mutual friends, I was introduced to the idea of coming back to NJ (where I'm from) and take on a bit more responsibility as a sales executive. I looked at the landscape of the NFL at the time and it was clear that the current lockout was on the horizon, so the moment seemed right to take a chance. From talking to people in my sports business network, I came to learn that Trenton was a top ten franchise in minor league baseball and that there was a major opportunity for growth, both personally and professionally. I liked the creative freedom that minor league baseball offered and the ability to come up with promotions and execute them without all the rules and red tape of the NFL. While it was difficult to leave an organization as respected as the Ravens, coming to the Thunder has been a very rewarding experience.
Obviously, the NFL is a very visible property with a lot of media exposure minor league baseball doesn't have. How big of a challenge does this present to you as a sales professional? It's certainly one of the battles we fight at the minor league level. For many agencies and brands, ratings points and the cache of sponsoring the NFL (or MLB, NHL, or NBA for that matter) seem to be more important than fan engagement and customer feedback.
What have you found to be the best way to overcome it?
Fortunately, we have a 17 year track record of success with brands and companies of all sizes to help us start the conversation. We've really become experts at in-stadium positioning and using our distribution channels to promote our partners and maximize their visibility. With our location between two monster media markets and fan bases (Philadelphia and New York), we're able to leverage the power of both to drive awareness and impact for our partners. Large, multi-national companies have partnered with us to create a smaller, more customer-service focused feel for their business, while smaller, more local companies have worked with us to help expand their reach in the market. We also have a number of relationships with event-based marketing companies who use our stadium season-after-season for their clients because of its effectiveness.
Many sponsorship sales professionals lament the fact brand marketers either don't see any difference between advertising and sponsorship, or they don't understand how sponsorship marketing can create quantifiable value for them. Do you ever find yourself having to educate the people you need to buy, what sponsorship is and how it can work in general, aside from the property you are selling?
I spend a large part of my time educating potential clients on the difference between "sponsorship" and "partnership." There are so many businesses who view partnering with a team as a charitable spend, often because of past experiences ("Sins of the past", as I would call it) where they were burned by lazy salespeople or properties. These companies spent money years ago on just a billboard or a print ad and don't always understand how "sponsorships" have evolved. One of the greatest satisfactions in my job is creating a successful program for a company who can then duplicate it with other teams and properties.
Let's talk about the role agencies play in the decision-making process. Do they help, hurt, or have little impact on your efforts to sell? Does the fact they usually get compensated based on media buys hurt "pure sponsorship properties" that don't offer big media exposure?
No comment? Just kidding. I think, overall, agencies are a necessary part of the partnership equation for larger brands. Good ones like The Richards Group and GMR (to name a couple) do a great job for their clients creating overall strategies that make sense and work. As I mentioned before, we work with multiple event-based marketers who do an excellent job setting up interactive displays and tours for their clients. The only time we run into issues with agencies are when they are more interested with raising their own profile and not necessarily making the best decisions for their clients.
You actually have some data to show how valuable the Trenton Thunder is versus other larger properties. Can you describe what it is?
Like most properties, we've held the mirror up to our business a dozen different ways to capture as much information as we can about ourselves. The prevailing insight we receive time after time is that the avidity our fans have for the Thunder brand are equivalent to levels found for other professional teams in the Philadelphia/New York DMA. Their recognition of team partners and loyalty to them often exceeds what we've seen reported for many top sports properties, mainly because of their keen understanding of how said partners positively impact our business and overall product.
This suggests smaller brands and companies get the most from sponsorship. Why is this the case, and how can larger brands realize similar results?
I think the main reason for this is the high cost of entry for brands and companies who want to participate in major league sponsorships, not to mention that many of these deals are on the property's terms. So many major league properties are focused on exclusivities and investment levels that when it comes time to actually design a plan for their sponsors, they come up way short. We're not as concerned with exclusivities and investment at our level – in fact, we think there's enough room in the sandbox for everyone. For us it's all about positioning and platform. We look to build an area in our park or segment of our fans for each partner and then work to activate together with them. We're not afraid of a little elbow grease or sweat equity, so if larger brands have or adopt that mentality as well, amazing results can occur.
Turning to SponsorPitch, why did you join the SponsorPitch network and why do you think others should? What do you see its value being?
As someone always looking for new and improved ways to learn and study the industry, SponsorPitch seemed like a valuable resource. The longer I've been involved with it and the way the website has grown, is both a testament to its founders but also to the connectivity and synergy it has created for both buyers and sellers. I think educated sportsbiz professionals have longed for the opportunity for a clearinghouse like this to share ideas and information. Prospecting (for both buyer and seller) can be such an inefficient task, having a tool like SponsorPitch to communicate and break down the gatekeeper walls is almost a necessity in this day and age to be successful.
If you could say anything about the industry, what would it be?
Be accessible. Be it a property, a brand, a buyer, or a seller, be available to new ideas, be open with fans, and be honest with each other. So much time and money is wasted in posturing, negotiating, and leveraging that I think, at times, we forget about the end user – the fans. If all of our conversations are focused and geared towards adding value to the fan/customer experience and rewarding fan/customer loyalty, we'll all end up "ahead of the curve."
---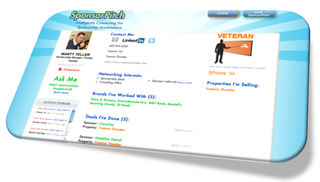 Contact Marty Teller:
Twitter: @mwteller
SponsorPitch: MartyTeller
LinkedIn: martyteller
Note on Ahead of the Curve Interview Series
Ahead of the Curve is a regular interview series featuring professional members of SponsorPitch, a research and networking site for sponsorship professionals. If you'd like to be featured, become an active member of the SponsorPitch community. Past guests in the Ahead of the Curve interview series include:
#aheadofthecurve #ahotc