Aug 08, 2009 at 04:43 PM
AVP in Talks for New Title; Crocs Deal Expires
Crocs, who has title sponsored the AVP Tour since 1996, will not be back as title sponsor of the Tour next season.
The company's three year sponsorship deal expired yesterday, the same day as the company's quarterly earnings call. CEO John Duerden indicated the company would be shifting their marketing strategy to a more direct to consumer model.
"As part of our cost reduction initiatives, we will no longer be participating as an AVP sponsor after the 2009 season," Duerden noted. "While we've enjoyed our time as an AVP sponsor, we look forward to investing into more consumer-focused marketing programs."
This doesn't come as a huge surprise as the clothing manufacturer is trying to implement a companywide restructuring plan that cuts costs and streamlines operations. The Tour is in active discussions to find a replacement for next season.
The company also noted $11.2 million in restructuring charges including "cancellation fees on certain sponsorship agreements." Part of the reason sponsorships have taken so much flack stems from the fact that in many cases business conditions are a lot more fluid than business contracts. Long term partnerships are great when times are good, but difficult to unravel in a volatile business environment. In fact, even with the sponsorship officially ending yesterday, it will still have a material effect on SG&A expenses at the company. For instance, despite the ongoing layoffs and restructuring plan, Crocs still has significant long term contractual obligations.
Here's a breakdown of the company's contractual sponsorship obligations between 2009-2013: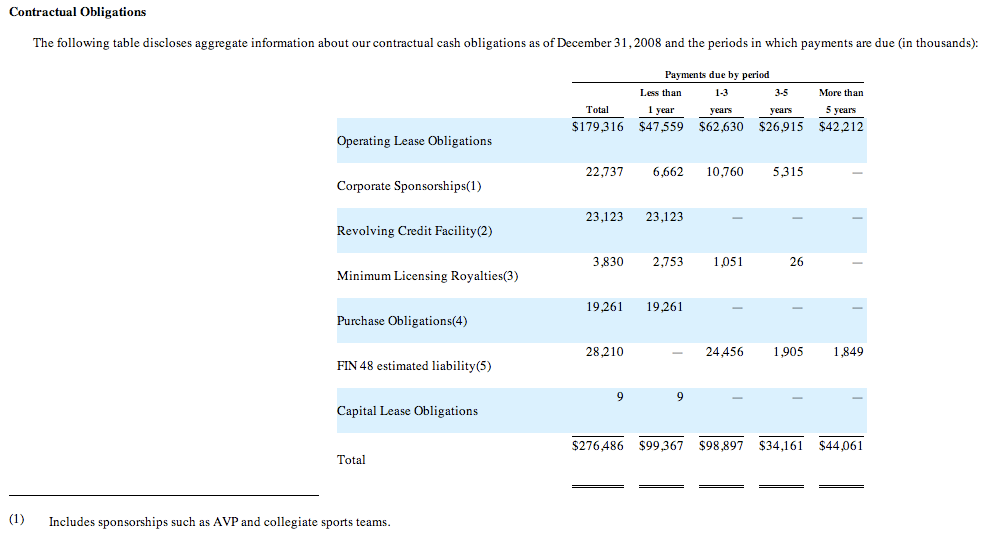 A tour title may not be an easy sale right now, but AVP has done a job of making a splash with their hot new ad campaign and fresh TV deals with Universal and select Comcast regionals, which brings their TV distribution to five different broadcast outlets this season. Sources say they are in active talks with several companies about a deal for the 2010 season and beyond.
Just over a year ago, then CEO Ron Snyder offered a much different outlook on their partnership with the Tour.
"We will continue to invest in developing an influential brand in the active lifestyle space, including our title sponsorship of the AVP Crocs professional beach volleyball tour that prominently features our brand in 18 tour stops across the country and as global TV reach including NBC and Fox Sports Net in the US," Snyder said on a 2008 conference call. "We believe this will be a tremendous opportunity for us this year as beach volleyball was one of the most popular sports in the last summer Olympics."
But yesterday, CFO Russ Hammer explained the change in sponsorship strategy.
"We are spending a lot less in our marketing area and we are also going through a pretty dynamic change of our marketing," Hammer said. "We are changing our sponsorship strategy, what we've enjoyed being an AVP sponsor over the years and now we are changing from doing that type of sponsorship to more direct consumer."
Crocs also sponsors the Sony Ericsson Tennis Open, South Beach Food and Wine festival, NASCAR and a number of other events and trade shows.
Update > 8-10-09: AVP Pro Beach Volleyball today released a statement today confirming that they have agreed part ways with Crocs at the end of the 2009 season. In the statement, they noted that Crocs has agreed to buy out the remainder of their contracts; noted as restructuring charges mentioned above.