Sep 28, 2012 at 01:34 PM
Dunkin' Donuts Sponsors Start-Up Contest
Dunkin' Donuts and its agency Hill Holliday have come up with a creative way to energize the coffee chain's social media efforts. The "Dunkin' Donuts Start-up Turbo Shot" promotion is asking start-ups to propose ideas online for how they can help energize the brand's social media efforts. From the pool of online entries, three start-ups will then be chosen to pitch Dunkin' Donuts their idea for how they would help "make Dunkin' the most social brand In America" at the FutureM conference in Boston. The winner, announced on the spot, will get $5,000, access to and advice from senior Hill Holliday and Dunkin' Donuts team members, and also have the chance at a paid assignment to execute the idea.

The call for entries launches today via Hill Holliday's dedicated Web site, beacon.hhcc.com, and it's open to start-ups nationwide. Entrants are asked to submit a three-minute video that explains how the startup can help make Dunkin' Donuts "the most social brand in America".
Pitch videos will be accepted now through October 10th, and entries will be judged by Dunkin' Donuts and Hill Holliday, with three finalists announced on October 15th. On October 23th the finalists will pitch their solutions to a panel of judges at FutureM, with the winner announced by Dunkin' Donuts on the spot. Hill Holliday will continue the relationship with the winner through Project Beacon, the startup partnership initiative launched last year.
"We're always looking for new and unique ways to celebrate our passionate Dunkin' Donuts fans through innovative social media campaigns and initiatives," said Scott Hudler, Vice President of Global Consumer Engagement for Dunkin' Brands. "As our community of fans and followers continues to grow, we're excited about the opportunity to offer one start-up a chance to add value to our social media program."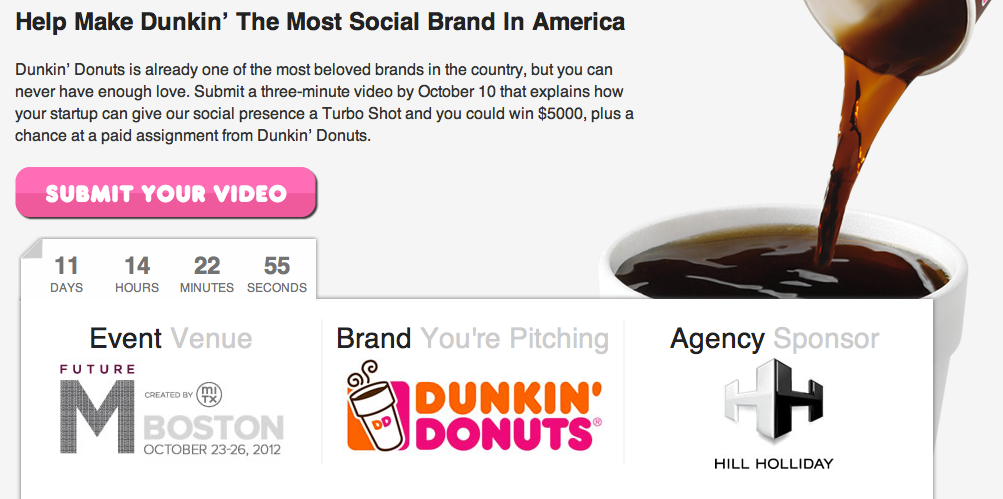 #dealstag