Sep 11, 2015 at 12:00 AM
Export Intelligence & Explore New Recommendations
We're excited to announce several new SponsorPitch capabilities, which members can take advantage of starting today. For those of you that have expressed an interest in exporting the information you find on SponsorPitch, these new features will give you a whole new way to take more of the information you find here with you. Included in SponsorPitch Reports are deals, graphs and decision makers for the business category or property genre you select.

Reports

You'll just need to first select a business category (i.e. auto manufacturers, retail banking or airlines) or a property genre (i.e. major league baseball teams, film festivals or tech & design conferences) from the respective dropdowns. From there, SponsorPitch will generate a report and email it to you so that you can take the latest intel for organizations in that particular category or genre with you to a meeting, share it with colleagues or take it home with you for some light bedtime reading if you so choose.

On top of that, it's free for professional subscribers, who receive one FREE report export each calendar month. After that, professional subscribers get 50% off on reports. Prospector subscribers receive a 25% discount on all reports.

Genre/Location Recommendations

We mentioned a few weeks ago when we added sponsor recommendationsby city that we would be adding more recommendation options to the Recommended Sponsors section on your dashboard. In this week's release, we're rolling out Recommended Sponsors By Genre for our professional subscribers. Like location recommendations, this takes a look at all of the deals in our system and makes recommendations based on previous spending patterns identified by our algorithm. First you'll need to select a sub-genre to generate recs. In this example, theme parks is selected...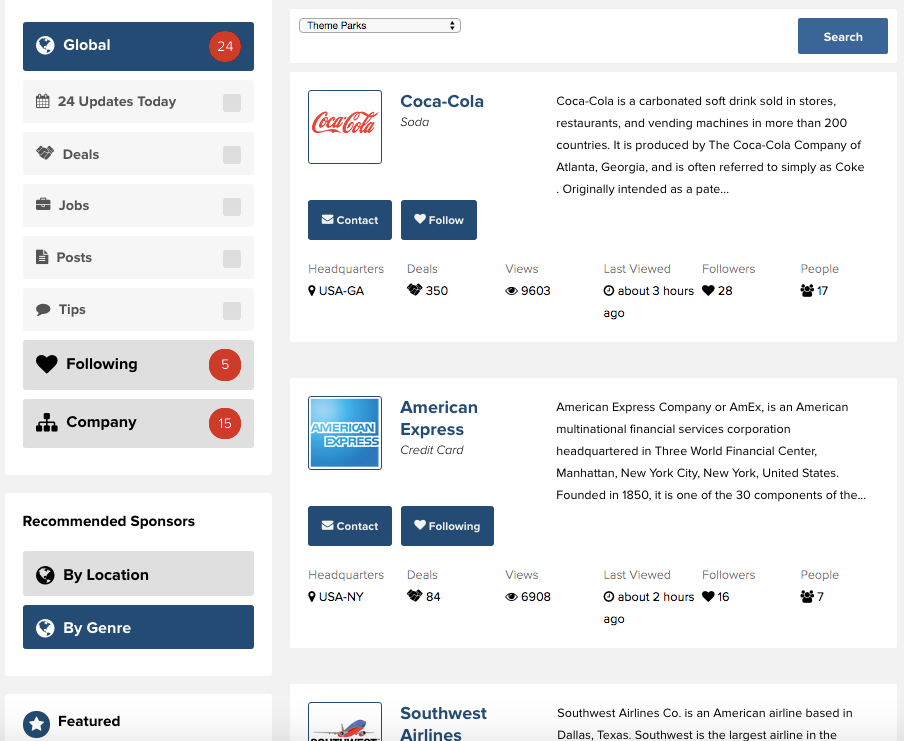 You can also generate recommendations for pretty much any major city around the world with the Recommended Sponsors By Location tab just above the Recommended Sponsors By Genre tab on the left side of your dashboard. In this case, Montreal...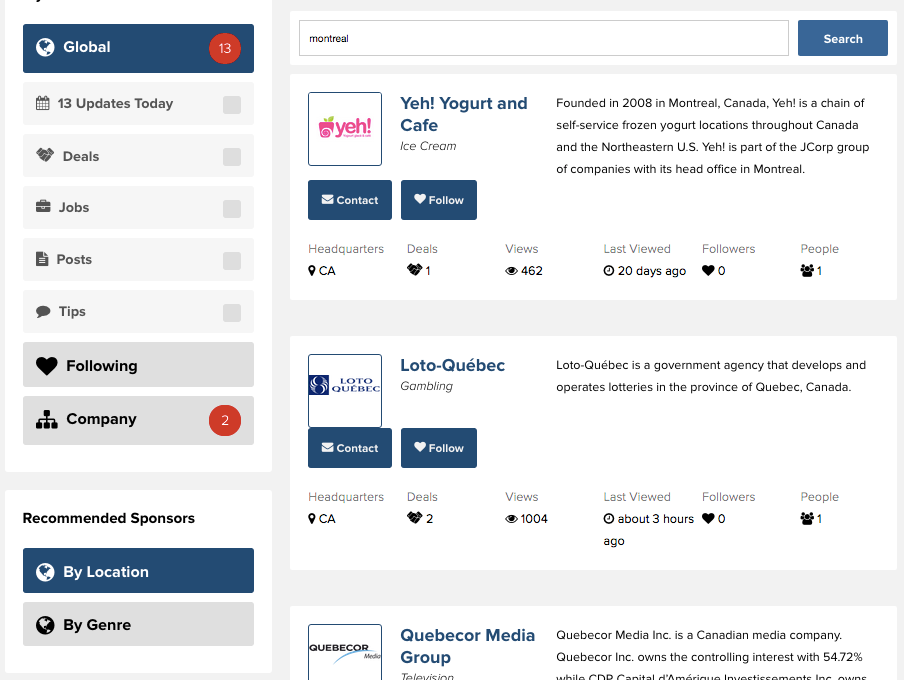 In addition to location and genre recommendations, additional recommendation tabs will be added to the Recommended Sponsors section of your dashboard in the very near future.

"Most Often Sponsors With" Metric


We have added a new feature on the analytics tab for sponsor and property pages. The "Most Often Sponsors With" table will show you the sponsors that most often sponsor the same events as the sponsor page that you're on. Conversely, if you are in the analytics section for a property page, the "Most Often Sponsors With This Property's Sponsors" will show you the sponsors that most often do deals alongside that property's sponsors. So for example, if Stella Artois is one of your current sponsors you may want to check out some of these other sponsors that often times sponsor the same properties as Stella...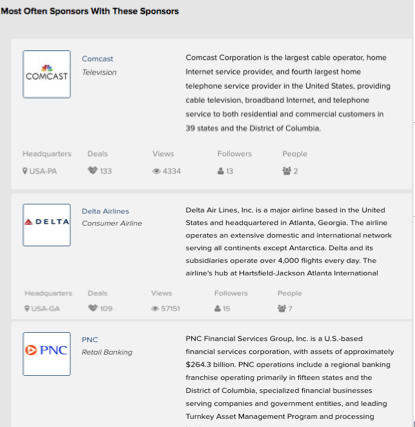 For now, we hope you enjoy these new features. As always, if you have any questions drop us a line!