Aug 11, 2009 at 01:51 PM
Financial Statements for Sponsorship Sales Pros
I know many of you may automatically dismiss this because you're thinking finance has nothing to do with marketing and sales.. especially sponsorship sales! For those that take this post with an open mind, we're about to arm you with a competitive advantage that may very well separate you from those that just said "finance has nothing to do with marketing and sales.. especially sponsorship sales!"
If you've been reading this blog the past few weeks you know that this earnings season's financial statements and conference calls have given us a ton of useful tidbits on both the sponsorship industry as a whole - and the way specific companies approach the practice of sponsorship. Where did we learn about Crocs' buying its way out of AVP three days ahead of the AVP announcement? The Crocs 10-Q and conference call. Take these cases for example, from the last two weeks alone:
Crocs (NASDAQ:CROX) shifts sponsorship marketing strategy; still facing restructuring charges related to cancelled sponsorship agreements and has contractual sponsorship obligations amounting to $22 million over the next five years (see graphic below).
Live Nation's (NYSE:LYV) showed an overall dip in revenue and number of sponsors, but a considerable improvement in revenue per sponsor. Does this mean their preference is for bigger, multi-property bigger deals? Perhaps this statistic is skewed by one big, new partner coming on board like say Red Bull?
Advanta (NASDAQ:ADVNB), a leading credit card issuer seemingly on the verge of insolvency, managed to "increase sponsorship activities relating to cultural and sporting events." Advanta recently agreed to pay $2.25 million to be the sole presenting sponsor of the Philadelphia Freedoms tennis team and its home tennis matches during the 2009, 2010 and 2011 seasons.
Marketing and sales expenses at Electronic Arts (NASDAQ:EA) increased by $36 million, or 28 percent, during the three months ended June 30, 2009, as compared to Q2 2008. This additional expense, however, was partially offset by restructuring compensation expense and headcount. Oh, and if you're preparing a proposal for this holiday season you may want to be sure to include a strong incentive and/or pass-through ability for EA's retail partners. According to last week's 10-Q, "retailers globally have taken a more conservative stance in ordering game inventory. The decrease in retail orders contributed to the decline in anticipated demand for [EA's] products during the 2008 holiday selling season."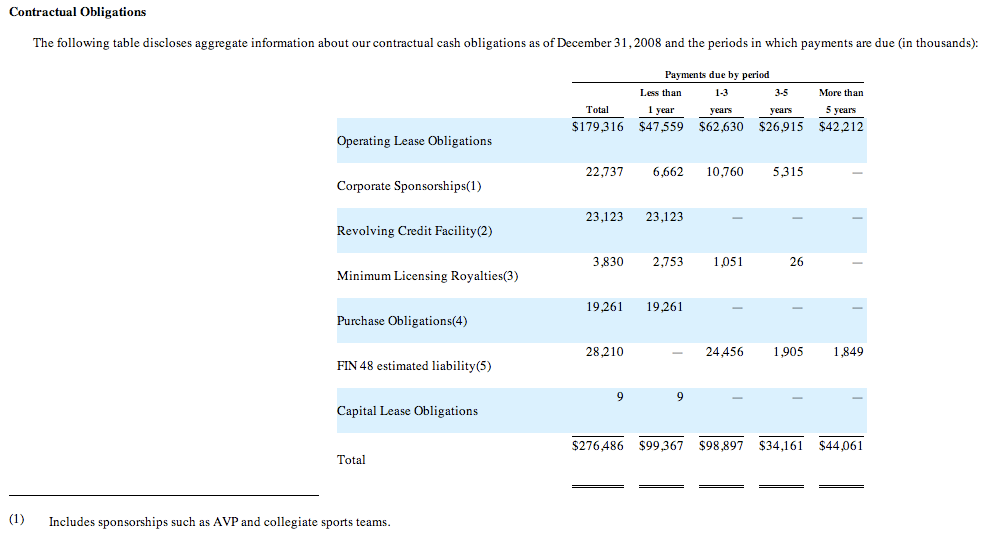 Now mind you, in this post we're not studying for overall financial viability (i.e. GM, etc.). We're simply looking for the places that will lead to clear cut sponsorship insights. Insights that you can bet won't make Wall Street Journal's A1. So it's up to you to do the dirty work. Sure, like most creatives, the investor relations section of a website isn't fun reading. However, it can offer a gold mine of strategic insights for your pitch (and if nothing else ... some quality bed time reading?).

Do you find yourself asking these questions before a pitch:
Does my prospective sponsor have seasonality in their business and in what time period do they focus their spend?
Look for clues to seasonality in Cautionary Statements or Risk Exposure, generally found towards the end of a statement.

Who are my prospect's key business partners and how can I involve them?
Check in Recent Events for new partnerships, Marketing and Sales to find new licensing agreements and look at Channel Revenues within Results of Operations to find channel/retail/online partners that you can involve in your partnership offering.

When are their contractual obligations the lightest and will this free up budget for opportunities like mine?
Liquidity and Capital Resources can provide a look at the general viability of the company. Marketing and Sales can tell you about shifts in marketing spend and strategy. Some companies even break out contractual sponsorship obligations as seen in the example above. Can you creatively structure your own sponsorship fees to make it easy for the company to absorb this expense in future financial statements?

What benefits should I steer clear of in my proposal? On the other hand, which assets will push the right buttons?
This is probably the toughest to uncover and if you're pitching on the local level, you don't want to limit yourself by company-wide assumptions. Nevertheless, you can look smart by asking the right questions! Check Legal Proceedings to learn about any PR concerns. Recent events, Results of Operations and Restructuring Charges all can yield quality insights. You may not want to focus hard on hospitality in the midst of layoffs, right? Or perhaps there's an ongoing legal proceeding that could negatively influence the proposed partnership.

What is the overall health of the brand?
Most statements will talk a lot about "the brand," but one way to take an objective look is through a few quick ratios. For instance, celebrity endorsements, event sponsorships, and national advertising programs are relatively fixed cost expenses. As product volume increases, if these programs are successful then they should positively affect SG&A as a percentage of sales. Is this noted? Note: your own ability to yield insights may be dependent on how tight the company's marketing strategy is and your ability to back out other independent variables.

Is charitable spending a focus and are there preferred charities?
Most companies break out Charitable Contributions and in many cases will even spell out how charitable efforts are conducted. For instance, during the second quarter, Crocs donates product (or VIK) through their Crocs Cares! charitable organization (with a fair market value of $5.1 million in Q2 alone).

What other properties does this company sponsor?
Sometimes the company's larger investments are highlighted in Marketing and Sales, but this is by no means a complete overview. In any case, you can get an idea for what sponsorship investments are most important and how they're using them.

What geographies and products is the company focusing resources on?
You can generally learn about the growth of various operating segments (in most cases by both product and geography) in Operating Segments and Related Information.

What are my prospect's most pressing business problems?
This is the crown jewel for sponsorship sellers and luckily it's generally right up front in the Business Summary. You might have to dig a little deeper though to get to the meat of the company's strategies. Don't forget about the first ones we talked about either, Cautionary Statements and Risk Exposure.
Now you know where to find some answers. What other things, as a sponsorship sales pro, do you look for in a financial statement? We'll provide anyone who shares their tips with a free three month Premium Pitch membership.
So how will financial statements affect my job in marketing or sponsorship sales? I used to approach this question with a similar level of skepticism, but really once you get past the intimidation of 10-k's, 8-k's and 10-Q's you can give yourself a big leg up by simply knowing how to strategically navigate (read: skim through) financial statements and company conference calls, ahead of your pitch. The goods news is, you don't have to be an MBA or CFA to do this. The better news, with just a little bit of practice you may just look like one! The best news, it's a FREE resource you're not already using!
One thing to keep in mind is that while financial statements may say some statements are forward looking, in reality much of the strategic information is vaguely worded by CFO types or even trailing/backwards-looking for competitive reasons.
So Q2 earnings season is winding down, which gives us a lot of time to practice before October. The fact is, a lot of sponsorship tips, trends and information get recirculated over and over and over again in the same pricey publications that everyone else in the industry reads. When that's the case, how do you get a leg up among your peers? By doing your homework and sharing information with others who have leads that may be of value to you. This is just one way to show that you've not only got the qualitative chops to produce a compelling and creative sponsorship offer, but also the research and quant skills to shape your proposal in a broader business context (a must from here on out). Without making any assumptions at all about biz strategy, you can also use this information to prepare some really smart leading questions for your client, prospective partner or current sponsor's business and marketing strategy. The subscription cost for a financial statement? Exactly $0.00.
Are you expecting the CMO, sponsorship manager or agency rep to put a marketing plan in your lap or are you doing the legwork to come to the table armed with information - just like you would if you were investing your own money? During my time rep'ing brands, I never once received a pitch that referenced client strategy from a financial statement. You can bet that if I had, I would have taken the time to listen - out of sheer curiosity alone! Sports, entertainment and cause marketing are fun disciplines, but at the end of the day it's all about business. Hopefully a few of these tips will make it easier for you to get down to business before your next pitch.
Next up... financial statements for sponsorship buyers! TRK, LYV, CDI anyone?