Mar 20, 2012 at 01:18 PM
Four Properties That Are Helping Partners Activate With Pinterest
Photo sharing website, Pinterest, is one of the hottest start-ups on the planet, reportedly growing faster than Facebook or Twitter did at the same age. Much like they did with Twitter, smart marketers are setting up shop and populating content ahead of its broader adoption. As a social network that aggregates photos of the things members like, Pinterest offers another great way to bridge the gap between offline experience and online reach -- particularly at it relates to women, who make up 82% of the site's 11M+ users. With stats like that, it's no surprise that fashion sponsors are jumping on board. For mainstream marketers however, "pinning" may still be foreign so we decided to take a look at how a few sponsors are activating their sponsorship investments on the hot new platform. While you're there, be sure to follow the SponsorPitch pinboard featuring some of the more clever sponsorship activations we come across.

World MasterCard Fashion Week and Maybelline
The brand's official 'online scrapbook' features pin boards populated with the latest images from the catwalk, backstage beauty inspiration, product highlights and more.
The New York Giants and Party City
The Super Bowl champions have plenty of reason to celebrate so team officials recently created a pinboard exclusively for Giants party supplies linking to licensed products from their partner, Party City. The NJ-based party supply retailer became the team's official party store in 2010.
Mercedes-Benz Fashion Week and Diet Pepsi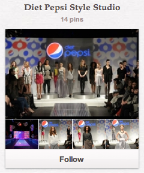 Diet Pepsi created a special pinboard for Diet Pepsi Style Studio, a fashion show within Mercedes-Benz Fashion Week, which gives four up-and-coming regional designers the opportunity to show their collections on a runway made out of diet pepsi cans. Diet Pepsi also featured backstage video interviews by pinning video content uploaded to YouTube.
The Diet Pepsi brand also featured content from its recent sponsorship of Sobe Wine & Food Festival.
Sonoma International Film Festival and 38 Partners
At least one film festival pinned each of their 38 individual corporate partners. Have you created a pinboard for your partners?