May 22, 2014 at 02:06 PM
Google Back On Top As World's Most Valuable Brand
Last holding the top spot in 2010, Google has dethroned Apple to once again become the world's most valuable global brand in the annual BrandZ™ Top 100 Most Valuable Global Brand ranking.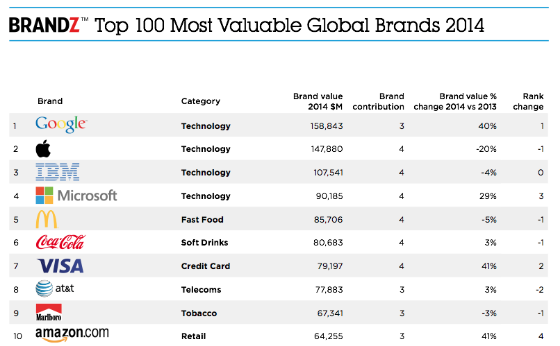 Some of the key findings highlighted in this year's research report include:
Share of Life: Successful brands such as Google (No 1 brand), Facebook, Twitter, Tencent and LinkedIn are more than just tools, they have become part of our lives. They offer new forms of communication that absorb people's attention and imagination, while also helping them organize the rest of their lives at the same time. To gain more of our mind-space, brands such as Tencent and Google are even crossing categories. This trend also pushed No 1 Apparel brand Nike, a prime example of a brand seeking to become a share of life brand which offers services such as Nike+ that extend well beyond its functional raison d'etre.
Purpose beyond Profit: Brands in business for reasons beyond the bottom line have a better chance of success in today's world. For example, Pampers, which promotes mother and baby health issues, is at No 39 in the ranking and grew its value by 10% to $22.6 billion. Dove, which has continued to find huge success on the back of its "real women" philosophy, has a brand value of $4.8 billion.
Apparel fastest growing category: The top 10 Apparel brands grew in value by 29% to nearly $100 billion this year, outpacing Cars (up 17%) and Retail (up 16%). With brands such as Uniqlo, Nike and Adidas all recording double-digit increases in their valuation.
Technology service companies continue to climb: Not only are the top four brands technology companies, but so too are many of this year's biggest risers. This year's fastest climber was leading Chinese internet brand Tencent, up 97% to $54 billion and the No 14 position, followed by Facebook which rose 68% to $36 billion and took the No 21 spot. New brands in the Top 100 include Twitter at No 71 with a brand value of $14 billion and LinkedIn at No 78 worth $12 billion. Collectively, Technology companies make up 29% of the value of the BrandZ Top 100 ranking.
High value brands provide faster growth: An analysis of the BrandZ™ rankings as a "stock portfolio" over the last nine years shows a highly favorable performance compared to a wider stock market index, the S&P500. While the value of the companies in the S&P500 index grew by 44.7%, the BrandZ™ portfolio grew by 81.1%, proving that companies with strong brands are able to deliver better value to their shareholders. A graphic is available here.
Brands from the Western World bounced back in 2014, with a greater proportion of both the number and value of brands within the top 100. This reflected the resilience of established brands and the breakthrough of new brands, as well as improved economic conditions. As a result, the number of brands from fast growing economies slipped in 2014. China, with 11 brands, continues to have the largest representation, two Russian brands, Sberbank and MTS, remain in the ranking, and mobile operator MTN is Africa's representative for the third consecutive year.