Mar 12, 2010 at 06:05 PM
Heineken Teams With Taxi Magic App for Safe Rides
Heineken USA today announced an agreement with Taxi Magic to help consumers easily book and pay for taxis. In the agreement, Heineken USA and its portfolio of brands become the exclusive alcohol beverage sponsor of the Taxi Magic online and mobile application.

Taxi Magic, an application developed by RideCharge, says it is the first nationwide free taxi booking service to be directly integrated with taxi dispatch systems. Through the app, consumers can book as well as track the arrival of their ride home.
"We're excited to join with Heineken USA and support their responsibility efforts," said Tim Csontos, vice president of business development, Taxi Magic. "Through Heineken USA's sponsorship and brand experiences, we'll have the ability to raise further awareness of our cutting edge technology and provide this unique service to even more consumers."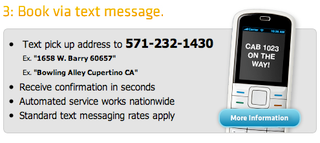 The application also can provide fare estimates and allows mobile payments, eliminating in cab transactions or the need to stop at an ATM.
"We believe Taxi Magic is the right partner to bring our responsibility activities to the next level," said Dan Tearno, senior vice president and chief corporate relations officer, Heineken USA. "As a leading alcohol beverage company, Heineken USA has an important role to play in identifying solutions to issues associated with alcohol consumption. This enhanced service is a powerful option to encourage responsible drinking by empowering and simplifying the designated driver process for our consumers. We look forward to incorporating Taxi Magic into our branded events and experiences."
Consumers can use Taxi Magic from any mobile phone or computer. The application can be downloaded free of charge from the Apple iPhone App Store or BlackBerry App World.