Mar 22, 2010 at 10:56 PM
IEG Conference Tweetlog
Just in case you couldn't make it to the IEG Conference in Chicago, we've culled the twitterverse to find the most interesting insights from an enthusiastic band of sponsorship tweeps in attendance. It will be updated through Wednesday so check back periodically. (Note: Twitter is a short form communication platform so grammar/abbreviations may reflect that).

Day 1: MMahoney13: Sponsor Decision Maker Survey results- avg spend $1.40 in activation to $1 in rights fees. 66pct of will consider new sponsorships
Knoepke_IEG: Patrick Pierce, Allstate, on shift to metrics-driven activation: "How the heck did a halftime kick promotion sell insurance?"
MMahoney13: After sponsorship spend fell in 2009, IEG projects 4pct increase to 17billion in total spend. Cause mktg to grow most.
MMahoney13: Cause marketing is changing. Companies are actively seeking lesser known causes to help them grow. Ex. Tums w 1st Responder Inst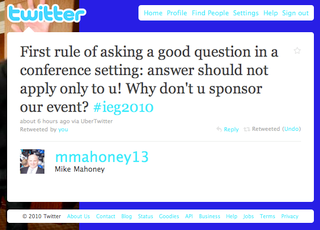 Day 2:
MMahoney13: Unlock expressions, not impressions. Sponsorship should not compete w/ads for eyeballs but entertain, interact
Gabesmail: "We send a positive response to every sponsorship proposal, yes or no." --William Moore, at&t
MMahoney13: Question to ATT Moore; if u could keep 1 sponsorship what would it be? Answer; Masters #ieg2010 (NCAA, #NFL boys close behind)
MMahoney13: ATT Moore on Verizon NFL deal. Prefer team strategy, can still team exclusive content and marks. ATT did look at deal. Too much $
MMahoney13: ATT has 3 agencies of record, Velocity, Career Sports and The Marketing Arm, spreading it around.
MMahoney13: Question to ATT Moore; if u could keep 1 sponsorship what would it be? Answer; Masters #ieg2010 (NCAA, #NFL boys close behind)
RethinkTweet: Has sponsorship become unbound? Are the rules different or is the core still the same?
jenniscribe: CEO AAA M/A partnered w/ Dover Speedway just b/c he liked the org people. It pays to be approachable & personable.
MMahoney13: QuickTtrip digital model. Awareness leads to activation then to new behavior. Customer transformation. Bridge sponsorship from prop to QT
Joseph_IEG: Virgin Mobile-- props shouldn't "define and confine" sponsors' activation
SportsMarkGuy: Bob Stohrer,Virgin Mobile: Consumers want to be arm chair activists. Spend little time and energy, but feel involved, give back.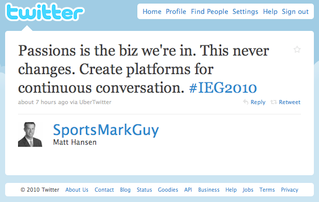 MMahoney13: Unlock expressions, not impressions. Sponsorship shouldn't compete w/ ads 4 eyeballs but entertain, interact.
SportsMarkGuy: Activation budgets should still be at least 50% of the price of the sponsorship.That # will increase in near future (need for ROI).
SportsMarkGuy: Curation-Consumers want companies to create, not interupt or clutter. Companies need to activate outside their brand sale.
SportsMarkGuy: Passions is the biz we're in. This never changes. Create platforms for continuous conversation.
Day 3:
SportsMarkGuy: What u will hear at every #IEG2010 session: Cause, Engage, Value, Measurable, Credible, Authentic.
MMahoney13: Red Bull spends 2x rights fees on activation. Quiktrip about 1 to 1.
MMahoney13: How to Measure Return on Sponsorship. 1)Need an measurable objective. 2)Outcomes based on activation, not just property assets
MMahoney13: Sponsorship and Advertising are different to consumers. Sponsorship takes longer to impact behavior but decay much slower.
SportsMarkGuy: You don't measure sponsorship, you measure activation.
MMahoney13: Best brand response with sponsorship is often with your current customer base! Easier to keep than acquire
Vruno: Oh, snap! Newish NASCAR races in North don't get return on sponsorships because goers are not "inbred" to care like Southerners
SportsMarkGuy: Once u find your customer's passion points, think ART... Authentic. Relevant. Transparent.
SportsMarkGuy: Dan Schorr, start2finish marketing: bring your brand into the home. Why? Staying in is the new going out.
Knoepke_IEG: Dawna Stone (@WomensHalf): "Ask for what you know you deserve. Bring your passion w/ you."
MMahoney13: Intersport Taco Bell "steal a base, steal a taco". Multi-channel, great bdcst integration by Fox. Highest sales day in T.B. yr.
Day 4:
gabesmail: "Future of branding does not belong to the loudest voice, but the most perceptive ears." -- Todd Fischer, State Farm
MaryTelesco: new influencers: getting 5,000 people who chose to engage with you brand is better than reaching 50,000 who don't
SportsMarkGuy: 50 percent of sponsors say ROI has increased over past few years. 23 percent still don't know.
Thanks to everyone for sharing their coverage. Did we miss something good? What are your thoughts on the conference? Feel free to drop a comment and let us know!