Jun 27, 2016 at 12:00 AM
Introducing SponsorPitch Referrals
We've all been in meetings where one party asks "if you know any sponsors that are a good fit" and subsequently promises to reward you if you can help introduce them. Too often, a lack of transparency, trust, follow-up and a whole host of other reasons prevent follow-through on what is seemingly a good idea, sponsor referrals.

To address this bottleneck, we've created the industry's first transparent and trusted sponsorship-specific referral network. If you're familiar with affiliate marketing, think of SponsorPitch Referrals as an affiliate marketing network for sponsorships that rewards the referrer for each successful conversion, in this case a new sponsorship deal.

With Referrals, now you can motivate our network of thousands of professionals to help assist in your sponsorship search in exchange for a referrer commission on the deal. It's 100% free to post a commission offer, though offers are subject to approval, and it's a transparent and trusted exchange for doing so.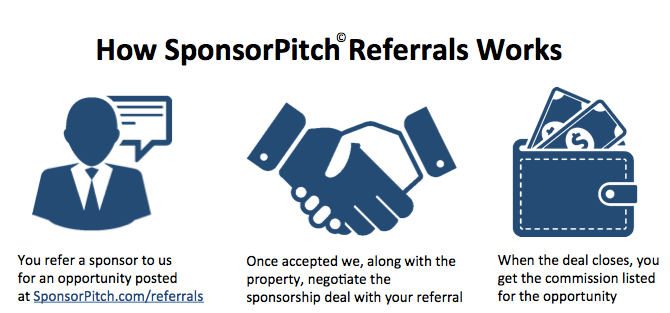 More importantly, SponsorPitch Referrals provide sponsorship freelancers, full-time sponsorship salespeople and even advertising/media/marketing agencies the chance to monetize their relationships with sponsor decision makers without the nitty gritty of typical client work such as managing client expectations, contracts, negotiating commissions, invoicing, etc. We've taken care of all of that. If you see an opportunity that you feel is a good fit for a sponsor you know, click the Make a Referral button to the right of that opportunity and we'll take it from there.

Here is an example where you can earn a 10% commission by successfully referring a new sponsor...

Say you've worked with a sponsor in the past that would be a good fit or perhaps a client is looking for new opps, just click the Make a referral button and follow the steps to get in touch. If the referral is accepted by Paradise Jam and the deal goes through, you'll get rewarded with a commission equal to 10% of the sponsorship fee for a simple introduction!

To reflect this exciting new addition and other new features that will be released shortly to the SponsorPitch ecosystem, we have updated our FAQ's.

If you have any questions about how SponsorPitch Referrals works, let us know. Post your commission offer today to get started and keep an eye out for new opportunities where you can use your network to make a referral.

Happy referring!

The SponsorPitch Team