Jun 25, 2012 at 03:35 PM
Is This Billion Dollar Nutrition Company Ready To Get Serious About Apparel?
For a nutrition company that did $3.5 billion in revenue over the course of 2011, it's an understatement to say that apparel is a bit player. So it's interesting to see that this LA-based MLM is recruiting for an apparel manager that will collaborate "with the corporate sponsorship team to align with emerging corporate strategies and sports sponsorships." Judging from their most recent financial results, apparel sales likely account for much less than 5% of the company's overall revenue so does this new job posting hint at the brand's broader ambitions to move into apparel in a big way? We did a little digging over the weekend.

Given that the company has used sponsorship aggressively in not only a top down way, negotiating sponsorships from Headquarters with properties like FC Barcelona, Tour of California, the Los Angeles Triathlon, Indy 500, LA Galaxy and the Herbalife World Football Challenge, but also from the bottom up giving its distributors the discretion to execute smaller local deals; a major move into apparel could present many new opportunities for the right properties.
Relative to its promotion of nutritionals and weight loss products, Herbalife has done little to promote its online store HerbalifeApparel.com to date, but that may be about to change. In addition to ecommerce, the company already has an enormous MLM salesforce that it can use to promote a more concerted push into apparel. One of the things that may have been holding the company back from a more aggressive entry into a big market like apparel was the recent trademark infringement case brought against it by apparel maker, Adidas. In February, the company wrote:
"in a pending action in the U.S. federal courts, the adidas companies alleged that certain uses of Herbalife's Tri-Leaf device mark upon sports apparel items infringe upon their "Trefoil" mark associated with such goods. They have also alleged that such uses of Herbalife's Tri-Leaf device and certain Herbalife trademark applications constitute a breach of a 1998 agreement between the parties. The trademark claims and all claims for money damages have been dismissed, but the trial court has twice granted partial summary judgment in favor of adidas on its breach of contract claim, and adidas may seek further rulings compelling changes in the way that Herbalife displays its Tri-leaf device. We continue to contest adidas' interpretation of the 1998 agree- ment and are considering an appeal of the partial summary judgments once a final order compelling action by Herbalife is entered. We do not believe that we have breached the 1998 agreement, nor that we are infringing on any third party intellectual property rights. Nevertheless it remains possible that the trial court might award injunctive relief to adidas that could limit Herbalife's ability to display its Tri-Leaf mark in connection with cer- tain sports apparel, sports equipment, or sports-related marketing and services."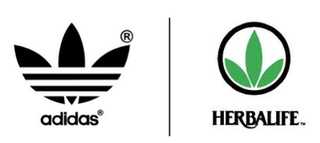 However, in late May the courts affirmed a ruling in favor of Herbalife by denying Adidas an injunction against the company. The dispute had been ongoing since 2009. The lawsuit pitted two of the LA Galaxy's biggest sponsors against each other, as both Adidas and Herbalife share jersey real estate, though the Herbalife tri-leaf logo is not used on the jersey itself.
So did the apparent settling of the adidas lawsuit clear the way for Herbalife to make a big push into apparel? Keep in mind, this is all speculation based on connecting a few very interesting data points, but it is an interesting story to keep an eye on if you're tracking the apparel category. Should Herbalife decide to pursue this opportunity in a big way, it seems unlikely that it would move into a crowded category like athletic apparel without first committing the heavy marketing dollars necessary to make a big splash.
Judging by its track record, sponsorships could play a key role in doing that.
#leadstag