Mar 02, 2011 at 04:29 PM
Jockeys Trade Career Ending Insurance For 'Posterior' Sponsorship
A sponsorship deal with logistics company Stobart Group is enabling the UK's Professional Jockeys Association to re-introduce career ending insurance (CEI) for its members. The insurance deal comes at a price though, in the form of 'posterior branding.'

PJA's Joint Presidents Steve Drowne and AP McCoy said: "Jockeys have one of the most dangerous jobs in sport, so insurance is important for most of us."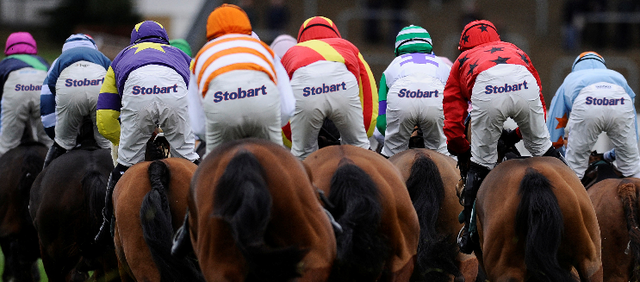 "As an Association, we have not been able to offer career ending insurance since 2008 because of the prohibitive cost of premiums. Therefore, we are delighted that such a prestigious company as Stobart Group has agreed to become a PJA sponsor and that the income from the new 'posterior' branding site is going to be used for the welfare of all Jockeys," commented Kevin Darley, Chief Executive of the PJA.
Some might call into question the logic behind drawing attention to your logo on a bunch of derrieres, but Stobart CEO says it's all for a good cause.
"Its great that we can help support the PJA in a way that is actually going to make a difference to the jockeys themselves," said Andrew Tinkler Stobart Group CEO, who has also personally invested heavily in bloodstock and will have about 60 horses in training this year. "I understand the risks involved in business and we have processes in place to minimise those. So its reasonable to suggest the same should be true within sport. I'm pleased that our support will be put to such good use."
The Jockeys' career ending insurance cover will be effective from Saturday 2nd April 2011.