Jul 06, 2010 at 03:53 PM
Motorsport Vets Hatch New Plan for Crowdsourced Sponsorship
Crowdsourcing sponsorship is not an entirely new concept, but this time it's got the muscle of some experienced motorsports executives. A new concept backed by motorsports veterans John and Daniel Webber, and supported by Jeff Gordon's former agent, launched this past weekend and aims to be the first team in NASCAR's history to complete a full season largely bankrolled by the fans. Calling itself America's Racing Team (ART), the team is scheduled to debut on track with the #76 car at the 2011 Daytona 500.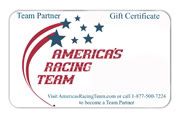 ART is being supported by two longtime motorsports execs. Michael Wright, a 20-year veteran of IMG and former agent for Jeff Gordon, is serving at ART's Chief Marketing Officer. Former Red Bull Racing and Evernham Motorsports executive Elton Sawyer is advising ART in the competition arena, a roll he played for four years while bringing Red Bull Racing from launch to the Sprint Cup Series.
The concept was created by IMG veteran John Webber, and his son Daniel, the founder of 3-D start-up, SuperVision Media.
"Sometimes the best concepts in business are the most obvious ones, the ones that are so obvious that no one takes the first step to bring them to reality," said Daniel Webber. "America's Racing Team is not only a concept for the fans, but one by the fans, one they asked for and helped craft via our extensive research and concept testing. Creating a team that they can literally help build and manage, from the ground up to the winner's circle, will be the ultimate experience not only for the fans but also my family, which has been involved in racing around the world for many years."
America's Racing Team is targeting a wide spectrum with its "Team Partner" proposition, including Kids, Teens, Adult Fans and Small Businesses.
For annual fees ranging from $44.95 for children to $499.95 for Family memberships, America's Racing Team's team partners will receive a host of benefits, many new to the world of NASCAR. Through web surveys and mobile applications on the team's website, "team partners" will weigh in on issues ranging from team strategy to car paint schemes to driver selection via a partner section of its website. Partners will also receive discounts on NASCAR race tickets, accommodations and merchandise as well as race-themed experiences like the Dale Jarrett Racing Adventure.

Small businesses may also join the team's "76 Pit Club" for a membership fee of $1,999.95, which will allow them to entertain in the Pit Lane at the team's NASCAR races. The team is also planning an annual convention for its team partners, fans and small businesses.
Finally, the team is planning to offer corporate sponsors the opportunity to market to the team's grassroots supporters. America's Racing Team projects that these companies will be able to associate with an estimated 50,000 – 100,000 "team partners" by Daytona.
This newest attempt at generating grassroot sponsorship support follows a similar crowdsourcing concept called FanCar, which was launched by NASCAR fan, Matt Ferguson, and raced last November at Homestead-Miami Speedway.
America's Racing Team was unveiled to the racing community at a press conference July 4th weekend at Daytona International Speedway's "World Center of Racing," in front of an invited group of local service men and women, from the armed forces and Daytona area fire and police departments.
ART is promoting its launch with a promotional campaign that will include :30 second television spots on ESPN and SPEED, national and local radio in the top NASCAR markets on and social media initiatives.
"This is not an individual's team, not a team wholly focused on a star driver or branded by one large corporate brand; this is team a financed and fueled by and for the fans," states ART's marketing chief Michael Wright. "This isn't a new marketing spin on a current team, but rather one that the fans will help build from its infancy and watch win races in what hopefully will be a very short time.