Mar 02, 2012 at 02:13 PM
NASCAR Driver, Kenny Wallace, Puts Followers To Work In Sponsor Search
NASCAR veteran, Kenny Wallace, has found a way to enlist over 87,000 Twitter followers in his sponsorship search. Using the hashtag #sponsorkenny, Wallace set off a blizzard of tweets to companies and marketing people last night on Twitter. Here's what got it all started..
Wallace is looking for sponsors for the next four races, which come at a price tag of around $100K per. Wallace's loyal fan base took his pleas and ran with them, sending out a barrage of tweets. Many were generic, while others seemed to put some real thought into making their 140 character case to marketers.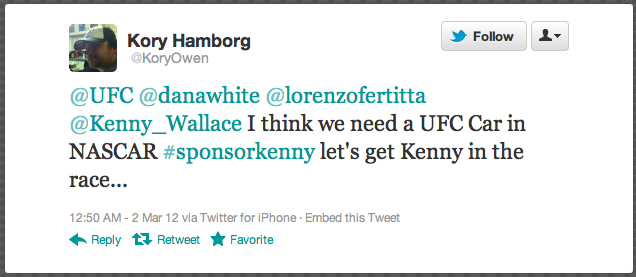 Without a doubt, the hit rate on this is going to be super low, but given the passion his fans have and if you believe any lead is a good lead, then it might just work in at least generating some buzz and a few conversations.
Got a lead for Kenny? Call Brenda at 704-784-4648 or better yet, point her to SponsorPitch's Sponsor Index.
#trendstag