May 28, 2013 at 01:01 PM
New French Open Sponsor Keeps Close Eye On Roland Garros
Tennis players generally aren't fond of fly-overs so the French Open has found a subdued way to keep its official airline top of mind. New French Open sponsor, Emirates, this past weekend unveiled this cute model A380 affixed to the tournament's aerial skycam. The clever activation supports Emirates' five year tie-up with Roland Garros announced just last month.

"Leveraging our sponsorships to showcase Emirates is a key part of our overarching brand strategy. This is the first time we have attempted to create an A380 aerial camera and the results speak for themselves. The A380 is an iconic aircraft and this near scale model hovering above Roland Garros is guaranteed to be a real eye-catcher," said Boutros Boutros, Emirates' Divisional Senior Vice President, Corporate Communications.
The world's biggest airline by international traffic last week unveiled its new luxury lounge at Paris' Charles de Gaulle airport, part of a strategic plan to refurbish 35 of the airline's airport lounges over the next 18-24 months.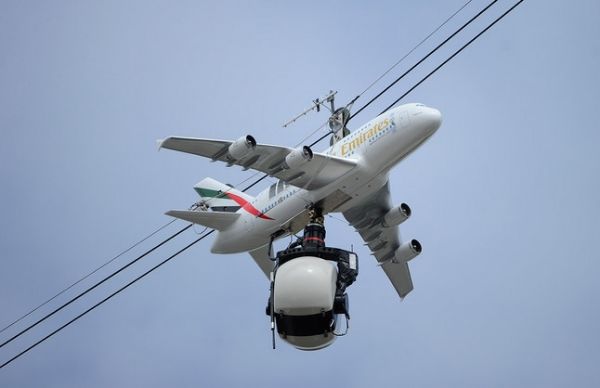 photo credit: FFT