Nov 13, 2009 at 04:51 PM
New Nascar Model Opens Opps to Small Biz
You would not be alone if you haven't heard of internet start-up, Juggle.com. But thanks to a new sponsorship, you and many others may be seeing the recently launched online facts and information provider at Phoenix International Raceway on ESPN2 this weekend. In years past, you might chalk the marketing play up to a VC-infused promotional hail mary, but in this instance it's smart, opportunistic marketing according to CEO Stephanie Leffler.

Until the downturn, Juggle kept all marketing dollars online. Leffler explained that offline marketing was expensive and hard to track for the start-up.
"In our business offline advertising is hard to justify. Every advertising dollar we spend is monitored for a meaningful return on investment - we had never seriously considered offline advertising because we have not come close to exhausting our online options – we had no reason to move our advertising dollars offline where tracking return on investment is an inexact science at best".
Leffler's mentality shifted as a result of the stressed economy. "All of a sudden we were being presented reasonably priced promotional opportunities for events typically reserved for companies with deep pockets," said Leffler.
Juggles new offline marketing activities now include the sponsorship of a Jay Robinson's NASCAR Racing Team which features drivers Kenny Wallace and Mark Green. Both drivers will compete in Saturday's NASCAR Nationwide Series race with Mark Green behind the wheel of Juggle's sponsored #49 car.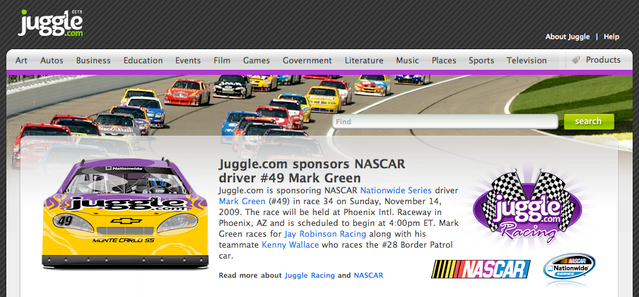 With large advertisers cutting back, and events seeking harder than ever to secure new sponsors, today agile marketers have access to more opportunities than ever before.
In the case of Michael Waltrip Racing, NAPA is its only full season sponsor with partial season sponsorships filling out the rest of the necessary funding.
"In this example, Kleenex comes to us. They want to be on the big stage. Marcos is new and fresh, and he's exciting," said team co-owner Brad Daugherty. "We have great brand synergies [with other sponsors] with them. … It's a business relationship that we have with our partners. We're almost a huge marketing team that has a race team."
Some would say that dividing a team's sponsorship up so many ways might dilute the value for any brand that chooses to get involved. On the flip side, new models such as partial season sponsorship have opened up opportunities to a whole new set of potential business partners.
"I get so frustrated when people just aren't creative enough to figure it out," MWR Vice President Ty Norris told scenedaily.com. "These companies want to market. This is a great time for them to market. It's still a buyer's market. The industry is still an incredible marketing platform, and we are starting to see where a team such as ourselves, there is still [ability] to get new sponsors at the right rates and good value for the sponsor."
"The economy's downturn has created an environment where unique, last minute marketing opportunities become available for a fraction of the price. Agile companies capable of making quick decisions can capitalize on opportunities and small businesses have a lot to gain," said Juggle's Leffler.