Feb 18, 2010 at 06:48 PM
NOKIA Offers All Access Press Pass
Nokia is launching their newest entertainment device, the X6, and its looking to show that not only can it be used for routinely frivolous activities like youtube, facebook updates and tweets, but also some serious entertainment reporting as serious as entertainment reporting can get at least. In its quest to find the next great reporter, Nokia has partnered with Bauer Media, parent of pubs like FHM and Empire, and is inviting fans to showcase their journalistic chops with a 60 second video submitted through YouTube.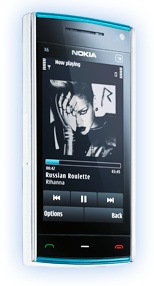 A celebrity panel of judges consisting of Paloma Faith, Mat Horne and Jameela Jamil will decide the winner, who will promptly whisked away and tasked with reporting back using the X6.
The winner, chosen from six finalists, will globe trot with the media elite from London (covering the X6 launch event), LA (during the festivities for the Oscars in March), Austria (Mayrhofen for the Snowbombing Festival in April), Barcelona (for the Spanish Grand Prix in May), back to London (for Rihanna at the O2 Arena on 11 May), and the Cannes Film Festival (18-19 May).
Naturally, all reports will be filed using the Nokia X6 16GB and posted online at Nokia's site.
Those interested in entering (only open to UK residents) can learn more here.
photo credit: Nokia.com