May 22, 2014 at 03:58 PM
Poll Results: Sponsorship Agency Comp
Do you know of agencies that will sell my property and what is the standard commission for sponsorship sales? We get this question at least two or three times a week so we recently put it to a SponsorPitch member poll. With 295 precincts reporting, 10-20% commissions look to be the standard protocol. Disclaimer: this can vary significantly depending on the agency's experience, deal size, retainers and such, but 15% seems to be the starting point for most.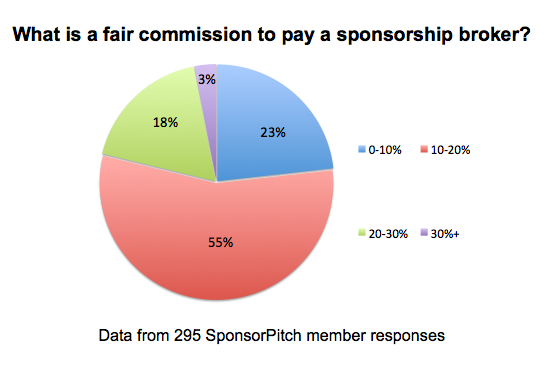 What tips do you have on working with and motivating sponsorship sales agencies? Retainer or no retainer; all commission, no commission or something in between? If you're an agency, what parameters do you have for taking on a new client? Share some advice with other members in the comment section below -- best comment (as decided by us) between now and 9AM est next Wednesday will get a FREE one month upgrade to a Prospector account.
Don't forget to head over to the dashboard and take part in this month's new member poll, which takes on the topic of 2014's fastest growing sponsorship categories.