Feb 18, 2011 at 01:02 PM
Premier League Fans Compete Head to Head in Lucozade Fans Fives Tournament
SP's Activation Tactic of the Week Series is supported by Getty Images. As part of our partnership, you can get 5% off when you purchase images at GettyImages.com by using the coupon code XTTPC46N during checkout.
---
Lucozade, a series of energy and sports drinks produced by GlaxoSmithKline in the UK, recently announced that it is hosting a Fans Fives Tournament that allows fans of Premier League teams to compete head to head against passionate fans of other clubs in the ultimate 5-a-side challenge on the famous pitch at Stamford Bridge.

Fans can enter to win a chance to compete in the Lucozade Fans Fives Tournament by filling out an application form on the brand's official Facebook page, describing why they are the biggest fan of their favorite EPL team. Fans selected to compete in the exclusive tournament competition will represent not only themselves, but their favorite club in a battle against the country's most passionate football fans. The competition effectively puts the passion, competitiveness, and loyalty of fans to the test in a memorable fashion.
Each Premier League club will select three (3) teams of fans based on the applications submitted online, who will then be subject to a four-week "Facebook Fan-Off" that allows fans the chance to ultimately decide who will have the opportunity to represent the club in the fan competition at Stamford Bridge.
As the longest standing Official Partner of the Barclays Premier League, Lucozade is also an official supporter of Arsenal FC, Chelsea, Liverpool FC, and The FA.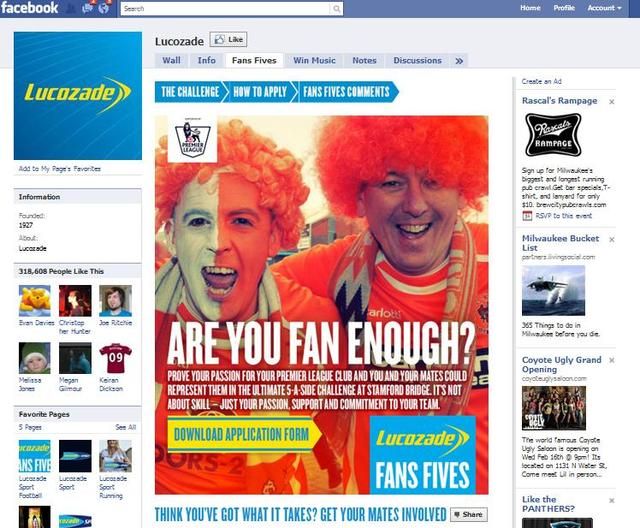 Brian Gainor is a passionate sports marketer with agency experience as well as an extensive background working in the NFL, NFL Europe, and collegiate athletics. As a Sports Partnership Activation Consultant, Brian created Partnership Activation, Inc. to provide sports business professionals with "industry best practices" - creative ideas that provide opportunities to generate incremental revenue.