Jul 13, 2011 at 01:52 PM
Redskins Score 9-year Solar Sponsorship to Power FedEx Field
The Washington Redskins, which according to Forbes is the world's 4th most valuable sports franchise, and NRG Energy have signed a nine-year deal that will power FedExField with solar instillations starting this September. Officials say the new solar power system will provide a portion of the stadium's electricity needs on game days and can generate enough power to serve all of its electrical needs on non-game days. The deal is NRG's first pro sports sponsorship.

"Our partnership with NRG will add to the fans' game day experience at FedExField and offers a unique example of how solar energy installations can do more than generate power," said Dan Snyder, owner of the Washington Redskins. "NRG's expertise and vision are a great match for us and we are excited to be part of this effort that will reduce our environmental impact and offer our fans another unique experience."
NRG will install three different types of solar panels that together will generate two megawatts of electricity. NRG will cover 850 spaces in the Platinum A1 Parking Lot with 8,000 solar panels. An NRG-branded entry plaza at Gate A will inform fans about renewable energy and showcase clean energy technologies.
"It will take 8,000 solar panels and a lot of expertise to deliver this win to the Redskins – we're getting it done," said David Crane, NRG's President and CEO. "The Redskins understand the importance of increasing our national energy security by making full use of our own inexhaustible natural energy resource. NRG is helping to make that change at FedExField and across the country."
"There is nothing like homegrown, in this case stadium-grown, energy," said Fred Smith, chairman, president and chief executive officer of FedEx Corporation and part owner of the Washington Redskins. "Solar can be a very smart investment. I am pleased to see FedExField moving in this direction and increasing its own energy independence."
NRG's subsidiary, Texas-based Reliant Energy will be the official electricity provider of the Redskins, as it looks to expand both its commercial and residential businesses to into the Northeast.
Here's an idea of what the 8,000 solar panels will look like outside FedEx Field..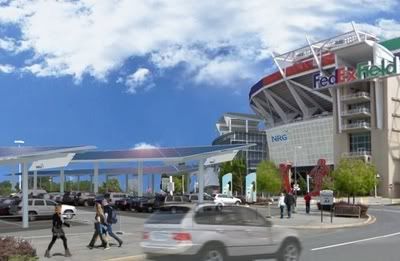 #newstag