Feb 17, 2015 at 12:00 AM
Setting Up Your Company Feed on SponsorPitch
Did you know that activating your company feed on SponsorPitch allows you to customize the updates that you see on your dashboard, the first page when you log-in everyday? Since all of our members have a different idea of the type of information that is useful, the company feed will organize your company's most important sponsorship intelligence in one single feed. To set this up, affiliate with your current employer in edit profile > company affiliations and if you don't see your company name in the dropdown you can always add a new sponsor, property or agency to the database to get your company feed rolling.

If you work at a property, the company feed will show you more targeted leads than the global feed such as when sponsors are added near you or when sponsors do deals with similar properties to your organization. Here's an example...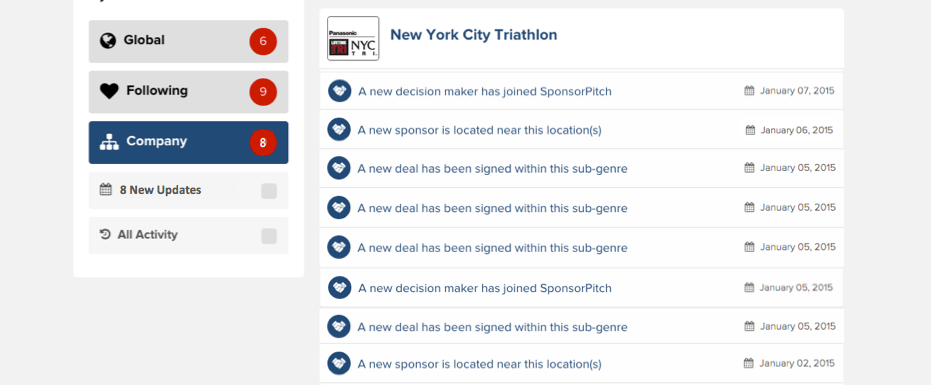 If you work at a sponsor, the company feed allows you to keep up with what your competitors are sponsoring. Here's an example of that...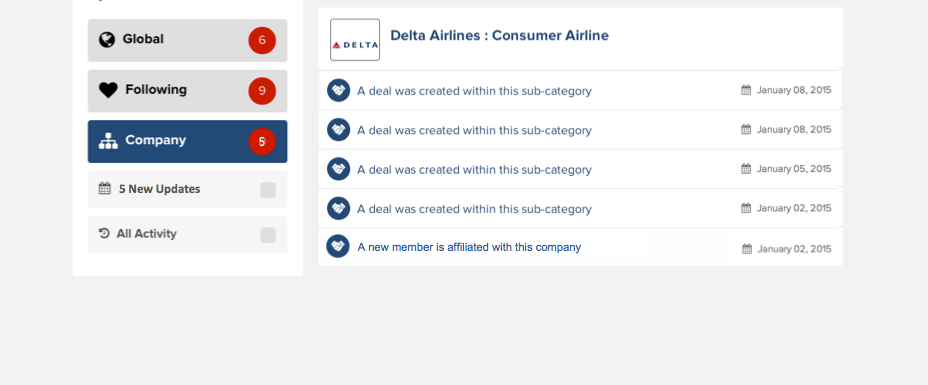 If you work at an agency, the company feed allows you to keep up with the updates mentioned above for all of your clients within a single feed. Note that for agencies, a sponsor or property must be listed on your agency page as a client to add their updates to your company feed. Here's an example...

Two other feeds are available on your dashboard, the global feed (everything that's happening) and your following feed (recent updates only for the pages you are following), but with nearly 70,000 users, 15,000 company pages and tons of valuable new data being added to the platform everyday, the company feed provides a new, easier way for SponsorPitch to push customized sponsorship intelligence your way. We'll be importing more information into these feeds in the coming weeks so if you have additional ideas on the types of sponsorship alerts you would like to see in your company feed, let us know!