May 14, 2010 at 02:50 PM
Sony's World Cup Content Strategy
Can't wait until the World Cup? Sony BRAVIA owners will soon have exclusive World Cup content to tide them over until next month.

Sony, which is paying $305 million to be FIFA's official consumer electronics partner through 2014, has announced that it will start streaming classic FIFA content to BRAVIA TV's and Blu-ray Disc players via its BRAVIA Internet Video platform starting in late May. Owners of a BRAVIA TV, BRAVIA Home Theatre or Sony Blu-ray player with BRAVIA Internet Video will be able to watch the Top 20 FIFA World Cup Moments, check out FIFA World Cup stories and anecdotes, watch one of several FIFA World Cup films and view profiles of classic football players.
Christian Luecke, Director Consumer Marketing TV & Online Marketing, Sony Europe, said: "We are very excited to offer a catalogue of the FIFA World Cup Collection to consumers in time for the 2010 FIFA World Cup. Thanks to BRAVIA Internet Video and our partnership with FIFA, we can make some of the greatest football moments come to life in consumers' living rooms across Europe at the touch of a button."
Developing strategic partnerships that deliver exclusive content to the internet video platform is a strategy that will stretch well beyond the World Cup.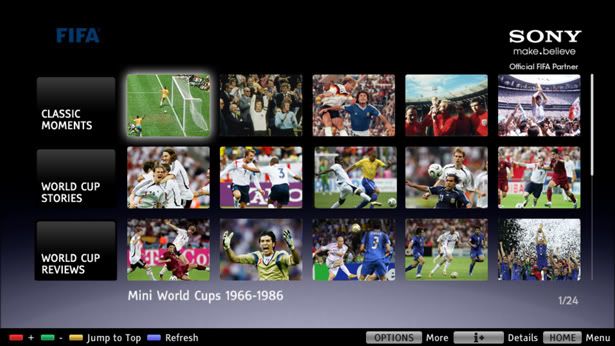 Just this week Sony announced a similar agreement with Berlin Philharmoniker that will allow Sony to offer BRAVIA owners access to the archived concerts from the the orchestra's groundbreaking Digital Concert Hall.
With all of the talk of ambush around this year's World Cup and other consumer electronics looking to cash in on the belief that big-time sporting events drive consumer electronics purchases, Sony is banking on the exclusive content it has acquired through agreements with FIFA to give it a leg up not only in consumer electronics, but across its product portfolio including movies, music and gaming.
On the live front, Sony plans to film up to 25 World Cup matches in 3D and broadcast them at viewing events throughout the world. The content will be exclusively compiled into a forthcoming 3D Blu-ray disc of match highlights.
"The transition to 3D is underway, and, we, at Sony, intend to be leaders in every aspect. Our sponsorship of the FIFA World Cup allows us to leverage our cutting-edge 3D technology and premier products with dazzling content to produce a unique and totally compelling viewing experience. 3D viewers around the world will feel as though they are inside the stadiums in South Africa, watching the games in person," said Sir Howard Stringer, Chairman, CEO and President of Sony Corporation.