Apr 09, 2012 at 02:19 PM
Startup Supplement-Maker Gets Stock Pop With First Sponsorship Deal
With a sports spokesperson, a first sponsorship deal and a new national advertising campaign, one new OTC multivitamin product is embarking on an aggressive marketing plan aimed at growing initial awareness and pushing the brand into new markets. In fact, news of its first sports sponsorship deal sent the pink sheets stock up more 50% last week alone.

Having recently signed a sports spokesperson, the brand seems poised to leverage sponsorships in key geographic markets as it rolls out other major distributor partnerships.
The company's first sponsorship deal will be used to promote its release with a new distribution partner, Walgreens, at 79 retail locations throughout the Northwest and the product will soon be available at 57 Winn-Dixie locations in South Florida starting in May. With approximately 4 million Americans taking Warfarin daily to prevent blood clots, the blood-thinning supplement, Clotamin, looks to have a sizable market to grow into and sponsorships aimed at boomers look like a logical step in that direction.
Clotamin, Sunpeak Ventures' main product, is the world's first specialized OTC multivitamin product designed exclusively for use by patients also on Warfarin, a popular blood thinner that has a long list of known adverse drug and food interactions.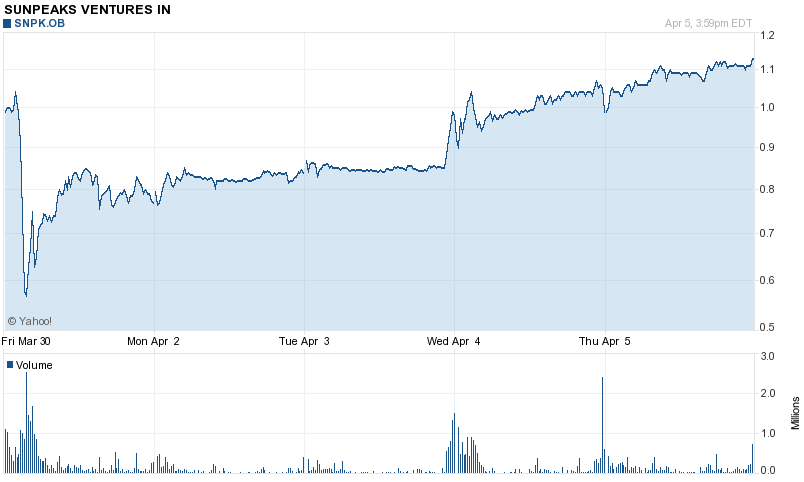 "Getting national exposure is critical to building customer awareness and growing sales," stated Mackie A. Barch, CEO of Sunpeaks. "The new Clotamin national advertising campaign is designed to push the brand into new markets. We couldn't be more excited for our many shareholders, customers, and potential customers."
"We continue to grow awareness and acceptance of Clotamin nationwide through quality advertising, strong endorsements, and strategic sponsorships," said Barch.
#dealstag