Jul 21, 2010 at 03:35 PM
Study: World Cup Sponsors Receive Higher Fan Recall Than NFL
Sponsorship measurement firm FanLab says that official sponsors of the 2010 World Cup received substantially higher fan recall than official sponsors of the National Football League, according to a new survey by the firm.

In two separate studies, fans of each sport were presented with three business categories and asked to select the official sponsor. In each of the categories presented to World Cup fans, the official sponsor was chosen most often. In the NFL study, the official sponsor was not recognized most frequently in any of the three categories surveyed. The categories selected and the results from the study are shown below.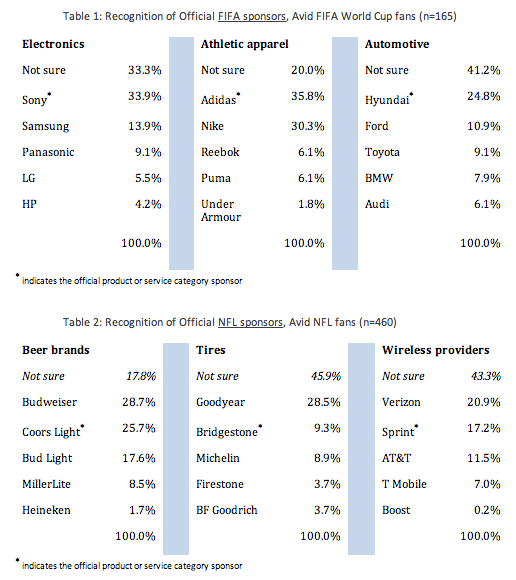 "Our data consistently shows that exposure does not guarantee a link, but World Cup sponsors had less than three weeks and made more of an impression than the official sponsors of NFL, the most watched sports property in the United States," said Brian Evans, director of FanLab. "Sponsorship awareness is a critical first step to achieving ROI and preliminary data shows that fans are taking notice of sponsors."
The World Cup study was conducted in July immediately following the World Cup, while the NFL study was conducted in February 2010.