Apr 28, 2010 at 07:42 PM
Survey: Properties Working Harder Than Ever To Secure Sponsorship
A new survey by sports marketing research firm, IFM, indicates that properties may be warming up to a wide range of new tactics to gain the interest of sponsors within the framework of an overall more difficult selling environment. In the full report, conducted during the first quarter of this year and obtained today by SponsorPitch, IFM says that "rights holders are working harder than ever to secure sponsorship deals" and are using four key areas to convince sponsors that their property is worth investing in, according to the study:

1. Providing sponsorship data
2. Adding more inventory to the package
3. Widening their search for sponsors
4. Undertaking research for best fit
"All of the actions involve a cost - either to purchase data or consultants' time or in lowering fees. However, many of the options will provide the rights owner with more information to target the brand with best fit and in the long term retain that partner for longer," IFM says.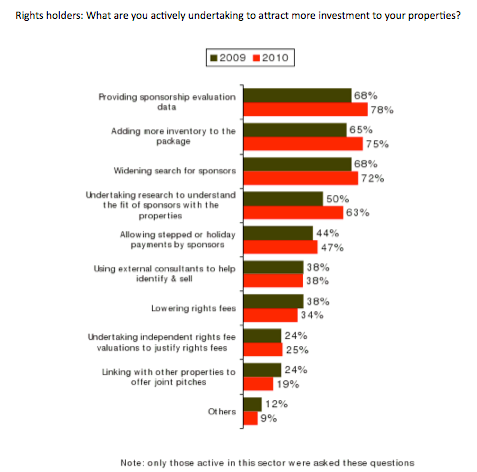 Though not surprising, the survey indicated the depth and variation to which the financial crisis has affected sponsorship in different regions.
Overall, around 70% of brands agreed that they have had to think twice about sponsorship involvement due to public perception. While 75% of Americans surveyed agreed with this statement, only 57% of Asia Pacific respondents agreed.
Even more troubling perhaps was the revelation that sponsorship as an industry may still have a ways to go in educating other organizational constituencies on the definition and value of it as a marketing practice. 57% of global respondents said sponsorship was "understood," slightly down from 63% in 2009. Among Americans, 50% believe sponsorship is "understood," a 10% drop from the previous year.

To request a copy of the study, visit the IFM website.