May 21, 2010 at 03:49 PM
Umbro's "I'm in" Campaign Asks for Cup Endorsements
Already a sponsor of the Football Association and Team England, Umbro has put its support behind England's bid for the 2018 World Cup, in the form of sponsorship.

Worldfootballinsider.com reports that the bid committee's fifth top-tier partner is estimated to be worth $1.4 million.
In support of the sponsorship, Umbro has launched a major social media push to gather celeb and fan endorsements for the bid. At 2018.umbro.com soccer fans can post their videos explaining why England should get the nod and post them right up alongside famous musicians, actors, dj's and professional soccer players.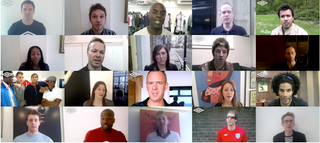 "As the authentic football brand we are delighted to have Umbro on board," England 2018 CEO Andy Anson said. "With their engaging "I'm In" campaign Umbro will provide us with valuable support for the remainder of the campaign."
Could a property, with the goal of securing the World Cup bid, ask for a better activation?
Here's a video submission from musician, Norman Gallagher: